Looking for a supplier of quality weighing equipment?
CAS Scales Australia will provide you and your business with reliable products that have been specially selected to complement our growing Australian Market. Together we can supply complete weighing solutions to satisfy even the most demanding clients.

As a CAS Dealer you will find a range of added benefits and support. CAS Scales Australia can provide you with excellent Product Training, Service and Advise with a personal touch. We offer affordable delivery of the majority of boxed products within Australia. Well stocked warehouse with spare parts at a great rate and speedy delivery. Flexible in our product choices, international CAS products are also available upon request. Volume based and promotional discounts are available.
Here at CAS scales we understand how difficult it can be in promoting new products when insufficient material is all that's available. We take great care in updating and maintaining Promotional Material and product information, making all we have available to help you promote CAS products. PDF brochures, specifications, product descriptions and relevant software & firmware are available for downloading. Dealers are also welcome to provide a company logo along with contact details and website url for a direct link. All to be placed on our "Find Your Local Dealer" page, in hope of directing sales leads to you.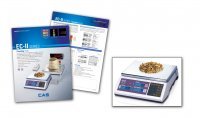 Price List & Product Catalogue
To make life a little more easier we have rolled both our price list and product catalogue into one! Dealers are provided with the latest price list with Recommended Retail Prices (excluding GST) and Dealer Discount Categories. The price list will remain valid until a new version is supplied at the beginning of each year. Prices, images and descriptions are deemed to be correct at the time of publication. Prices are subject to change during the year without prior notification. However, we will endeavour to contact all dealers via email news & marketing and notify of any price changes or promotions.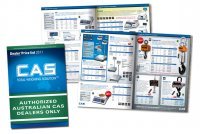 Our Warranty & Return Policy
CAS Scales Australia offers a standard factory warranty of 12 months for all products we supply except consumable products such as batteries, printer heads, label stickers, spare parts etc. If you encounter a faulty item, then contact us for further instructions. Some faults may be resolved via telephone or email advice. Other faults are covered under a Return to Base warranty, where the item must be delivered prepaid to our workshop. A Return Maintenance Authority (RMA) form must be completed for all warranty claims. 
Our technicians will inspect and determine if the fault is a valid warranty claim and advise you upon receiving the faulty product. CAS Scales Australia will repair or replace the product and will cover the shipping cost back to you. In the event the fault is not covered by the warranty, CAS Scales Australia will not be liable for your return freight costs. However, a quotation will be provided by the technician to repair outside of warranty. 
In the event of "out of box failure" or suspected fault (excluding trade stamping fault) within the first month of delivery, CAS Scales Australia's service department must be contacted to report the fault. CAS Scales Australia will repair or replace the product and will cover the shipping cost both ways. Under no circumstances, should the scales be attempted to be fixed without consulting us. 
In the event of "change of mind" by the customer, we will only accept the return of the sold item within 14 days from delivery date and the item is repacked in the original packaging with all the accessories included and shows no signs of usage.
Customer is responsible for retrurn shipping cost. Cost of any missing parts/accessories or damage will not be refunded. A restocking fee of 10% may apply. 

"*" indicates required fields